Saltair Community Centre Facility Improvements
Saltair Community Society is pleased to  announce through our long term capital savings and a  recently held online auction that raised over $3100 plus a generous matching  donation of $3000 from a local Saltair family,  allowed the Society to facilitate building improvements.
A  much needed accessible washroom was constructed out of the cloakroom attached to Room 17.
Volunteers Tim Godau, Mel & Donna Dorey did most of the work along with tradesmen Integrity Electric, LD Plumbing, Sombrio Painting, Damn Good Drywall with  CVRD permit + permission.
See Cloakroom/ Washroom before and after photos below:
Cloak room before and after….
The Society  also had all the hallway flooring replaced with luxury vinyl plank installed by local company Mastercraft Flooring.
You will find a total of 8 new electrical outlets in Room 18 completely on their own breaker! Saltair Quilters will enjoy this improvement to be able to operate all their sewing machines at once!
New flooring Gym prep kitchen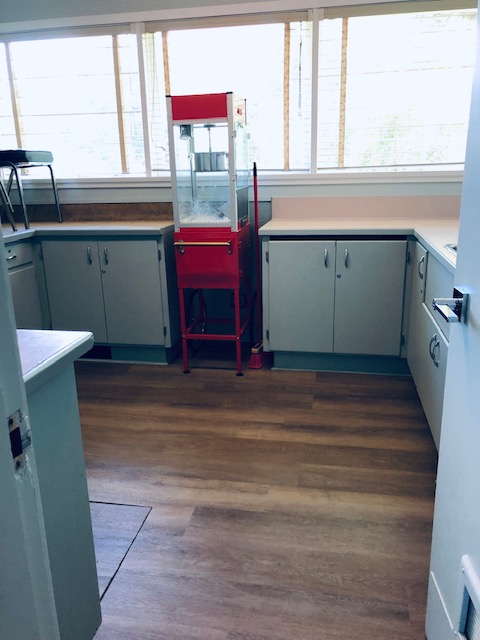 Storage Room 17  installed by Mel Dorey
Storage Closets for Room 16 installed by Mel Dorey
Mel, Donna, and Tim have been busy sprucing up the front of the Centre with a splash of paint and the installation of new safety hand rails made by Brownes Fabrication.  Apparently, the former school district did not see the need to have any handrails on site!
Parking lot line painting and Accessible parking designation is also planned for late summer.
Keep an eye out for upcoming flag pole and new front entrance signage.
The Society Directors are dedicated to continued fund raising  for future building improvements.
Sincerely
Saltair Community Society Board of Directors