Who We Are:
Saltair Community Society
The Saltair Community Society  was first incorporated as a Not-for-Profit Corporation in August 2015 to lease the former Mt Brenton Elementary School from the Cowichan Valley Regional District and operate the facility  for the benefit of Saltair and area residents. The Society consists of a 5 member Board of Directors and local  membership base.
PURPOSE:
The Saltair Community Society is committed to:
Providing a suitable space for the use and benefit of Saltair and area residents.
Promote, maintain and expand interest in the historical, educational, cultural, economic and recreational endeavours of the Saltair Community.
MISSION STATEMENT:
The Mission of the Saltair Community Society is to manage a common space for multi-purpose community use that provides opportunities for quality services and programs to enhance the well-being of individuals and strengthens a sense of community spirit.
SERVICES OFFERED:
Rental spaces are available for community, organizations, small business, cultural groups, family, educational, historical, recreational, and leisure purposes.
OFFICIAL OPEN HOUSE:
On February 6th, 2016  the newly established Saltair Community Society hosted a Community celebration to  officially change the building's name from Mt. Brenton School to  "Saltair  Community Centre".  About 200 people packed the gymnasium for the celebration and chance to tour the building.
Area G Director Mel Dorey championed the purchase of former school and five and half acre property to provide for a public gathering space within the core of Saltair.
"It's been a long time coming," said Dorey, explaining that it's been 10 years since the Mt. Brenton Elementary School site was sold to private interests. "We're not thinking of just this year or next year, we're thinking of 10, 20, 50 years down the line as the community develops. If you don't have these facilities in place it's too expensive to acquire, at a later time".
"We didn't have a community indoor meeting and gathering space in Saltair. So in order to be a cohesive community we needed a place for local residents to meet, share thoughts, ideas and socialize together."
There was a cutting of the ribbon and cake by the original student, Gloria Hill, who named Mt Brenton School in 1950.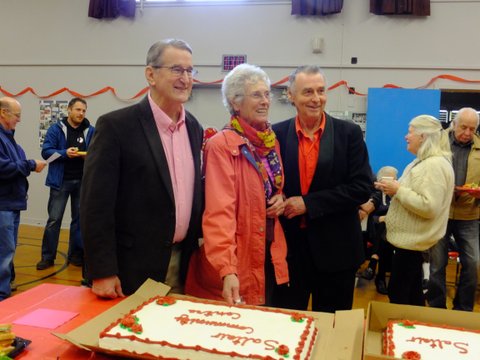 Ron Maddin performed the duties of Master of Ceremonies. Over 200 people attended the event where local singer and songwriter Terry Boyle performed his song "Sunny Saltair".
Special thanks to the secondary school students Madison Hendricks, Emma Brunt, Noah Hendericks, Emily Wilson, Benjamin Blackley and Logan Godau for their help setting up and programming
Ken and Diana MacTavish did a terrific job at decorating the center with "I Love Saltair" Valentines theme. Sean Jonas was in charge of the food and the publicity, Dave Key purchasing and operations, John Silins and Bill Cleary, set up and take down. Ed Nicholson worked hard to develop Saltair Historical Society with family story boards posted around the entire building, hallways and gym.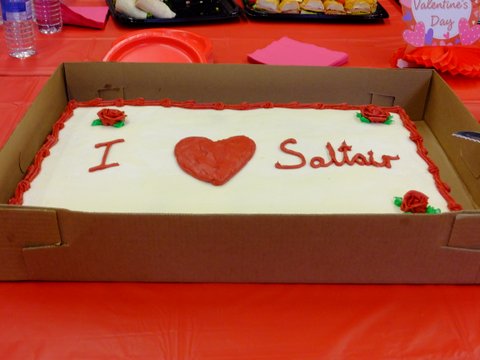 Thanks to Gary and Sandra Hendricks who did a tremendous amount of work with the story boards and the set up.
Christa Stegemann of the Quilting Society displayed their efforts at the event to promote a quilting group in Saltair.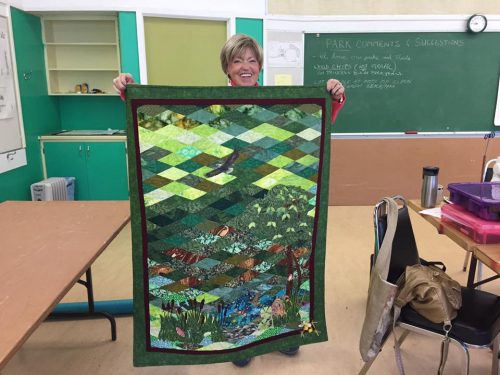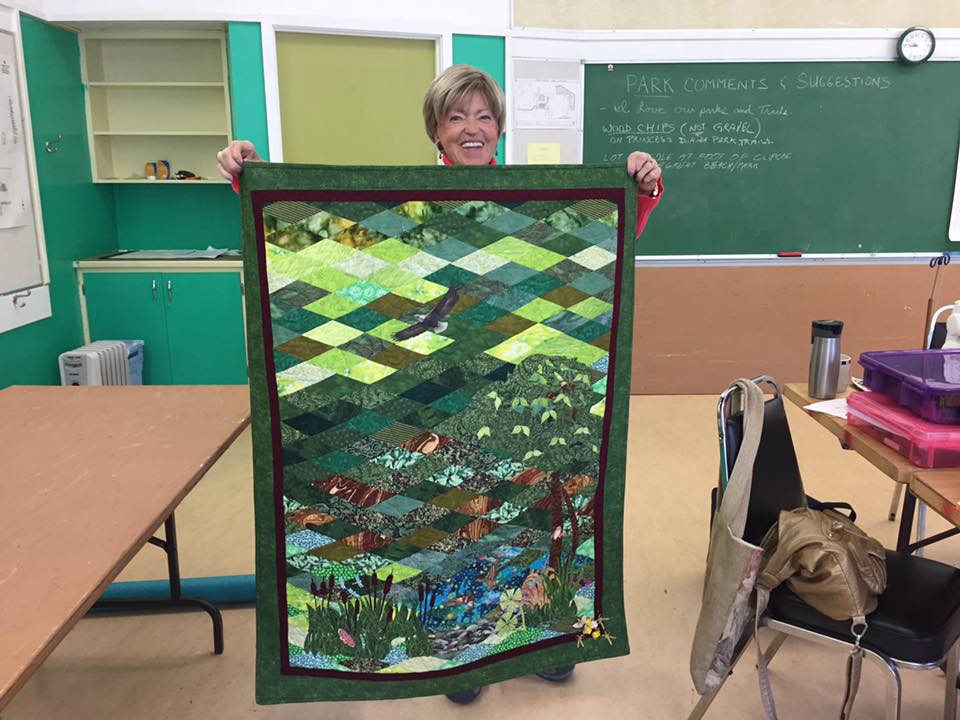 "I'm overwhelmed by the number of people who showed up," said Sean Jonas of the Saltair Community Society  board.
Jonas said one of the main purposes of the "I Love Saltair" community party and open house was to give people a chance to see the potential of having a community hub in the heart of Saltair and come up with ideas for using its gym and classroom spaces.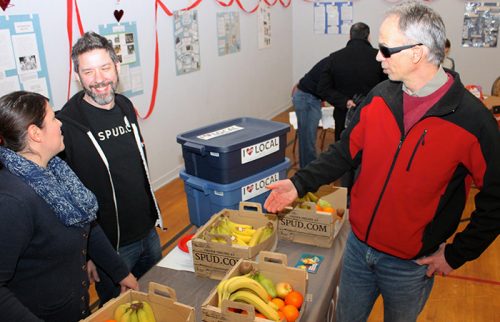 TO DATE:
Major improvements have been accomplished since February 2016 by the strong effort of   Saltair Community Society membership and dedicated local volunteers. Over 5000 volunteer hours have made a significant impact on the initial condition of the building and helped  reduce labor costs.
"Working together makes Communities stronger!"
Society's Volunteer and Paid For Contributions:
Exterior Painting – stairs, handicap access railings, caution strips
Cleaning  of entire building
Main Washroom painted by volunteers
Interior painting of Hallway,  Room #18,#19 and bathrooms
Floor refurbish waxing.
Plumbing – leaks repaired, new toilets, pipes, taps, drain clean outs
Furnace replacement- installation of one 95% efficient natural gas furnace- labor donated by qualified journeyman gas fitter.
Curtains for gym- made by Saltair Quilters
50 brand new folding chairs for Auditorium – donated by local family
8 new folding tables
Exterior grounds clean up and seasonal snow & storm clean up.
Planter box maintenance
Gym mold remediation by professional company
Entire Center  ducting system was  cleaned by professional company.
Wifi Installation.
Website launch
Facebook Page
Community Open House & Concerts
Christmas Market
Christmas Event
Seedy Sunday
Fire safety upgrades
[Best_Wordpress_Gallery id="10″ gal_title="Volunteers"]
CVRD Contributions:
The Cowichan Valley Regional District landlord facility improvements to date:
Initial  start-up costs, funded by previous rent collected from ILM Daycare
Entire roof replacement
New thermal gym windows
Gym interior tongue/groove pine ceiling install & spray foam insulation, gym interior painting.
Room #5 remediation/renovation
4 furnace replacements from oil burners to high efficient natural gas heaters.
[Best_Wordpress_Gallery id="11″ gal_title="CVRD Contributions"]
SUSTAINABILITY:
Rental income from user groups
Rental income from anchor renters
Community volunteers
Fundraising Events
Partnerships and joint ventures with adjoining municipalities.
SCS Membership
Stay tuned for Future Improvement Plans.